TJ's macadamia cracker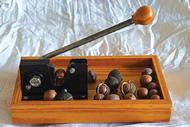 Lifetime warranty
The ultimate macca cracker!
Suitable for macademias and other small nuts
Weight: 1.35kg
This Australian designed and made macadamia cracker has been fabricated by hand  with durability and strength in mind. It carries a Lifetime Warranty in Australia.
Whilst designed to crack the macadamia nut, it will crack a range of small nuts. It produces massive leverage and even very young or frail users can have the pleasure of opening some of the toughest shelled nuts on the planet.
The specially machined jaws of the cracker are also handy for getting the odd tough outer 'hull' off the nut if it is still adhering.
TJ's is regarded as the best manual macca-cracker in the world and is a great investment in the quality of the food you and your family eats.
Presentation
The cracker is shipped as seen above, complete with nut tray.