Introduction to Permaculture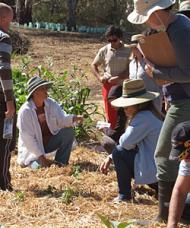 Date: Sunday October 10, 2021
Time: 8.45am - 5.00pm
View PDF about this and other courses
Morning and afternoon tea is provided
BYO lunch (due to COVID no heating or cooling facilities available)
Venue: The Food Forest
Online payments: Book your place below using your credit card.
Please also download this form and email it back to us
A concentrated introduction to the design principles and techniques of this complete system for the sustainable design for homes, neighbourhoods, gardens, businesses, farms, waste re-use, economics, community development and energy management. The workshop will focus on practical choices we can all make in our daily lives both at home and in the workplace, using permaculture design and action to make a difference and to create a more resilient and planet-friendly future for ourselves, neighbourhoods & workplaces.
You will be able to see in action, appropriately designed structures, tools, equipment and growing systems on this organically certified property and solve some property design challenges using three-dimensional interactive modelling. Bookings essential.
Bookings & Refunds
We understand circumstances can change between booking and the date of the course and that you may not be able to attend.
In the event of a cancellation:
If it is more than 2 weeks out from the starting date of the workshop: we can refund the fee (minus a $40 administration fee), you can transfer to another workshop of the same value at another time, or you can nominate another person to attend in your place, at no cost.
If it is less than 2 weeks from the starting date: the booking can be transferred to another person you nominate but can not be refunded.
In the unlikely event of insufficient registrations or any unforeseen Food Forest related circumstances, the organisers reserve the right to cancel the course with one week's notice. In this case a full refund will be made. Unfortunately we can not refund travel expenses incurred.
COVID 19
Please note, this workshop will be run according to COVID guidelines, current at the time of the workshop.
If you are unwell with flu like symptoms, we ask you to please not attend the workshop – contact us beforehand to discuss options.