Spring Open Day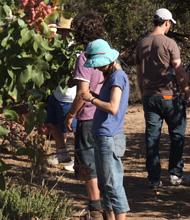 Date: Sunday September 29, 2019
Download PDF about the open day and our one-day workshops
10am sharp - 1pm: Strawbale Building and Info Session - $15
2-5pm: Permaculture Walk & Talk - $10
No need to book. Children free. No pets.
Tea & coffee available
The Food Forest Open Days take place on one Sunday in Spring and also one in Autumn.
The day is divided into a morning session - 'Building with Strawbales', and an afternoon session - 'Permaculture Walk & Talk' which includes an introduction to permaculture design and tour of the whole property.
To gain maximum benefit from the events, please arrive on time as there will be a sequential series of talks tours etc.
----------------------------------------------------
Strawbale Building Info Session - $15
Inspect:
The passive-solar strawbale studio: 3 rooms & curved strawbale garden walls
Eco-gazebo
Strawbale coldroom
Homestead extension, 80sq metre, passive-solar strawbale-stone-galv construction and photovoltaic system
Gallery with rock-art oxide decoration
Indoor/outdoor living area
Eco shelter for historical machinery.
See: Displays and slides of strawbale construction.
Talk to: Lance Kairl (builder), Bohdan Dorniak (architect) and Gerald Wittmann (engineer) - SA's most experienced professionals in strawbale building.
----------------------------------------------------
Permaculture Walk & Talk - $10
The tour will start with a brief introduction to Permaculture, the design system for sustainable living. We will then take you on a walk inspecting revegetation & aquifer recharge work along the Gawler River, vegetable gardens and poultry.
We will have a look at the passive solar, energy efficient buildings, solar hot water and photovoltaic systems, rainwater catchment, composting toilet and reedbed systems. We then move on to the sanctuary where native vegetation adds to the diversity amongst the production orchards.
We will explain the growing of many of our fruit and nut species such as figs, apples, pears, carobs, pistachios, and grapes.
If attending only the afternoon session please arrive at 2pm as this is a sequential tour.
At the conclusion of the afternoon tour there will also be certified organic produce and wine for sampling and purchase.