Preservation of Food - from Garden to Kitchen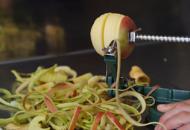 Next course date to be announced.
Payment is transferable to another person, but non-refundable if you cancel less than 2 weeks before your course date
Group discount (save $10 pp) - book 2 or more people in one transaction.
Morning and afternoon tea is provided.
BYO lunch (fridge available, no heating facilities)
Next date for this course is to be advised. Please email us if you would like to be notified once we set a date.
Southern Australia's unique environment enables us to grow plant varieties which provide long seasons of fresh food from almost any  species we choose but even the best planned garden or orchard produces the occasional glut. And anyway there are so many types of food that we would love to have out of season; pickled olives, dried fruit, frozen sweetcorn and delicious nuts sound pretty inviting in the middle of winter.
Preserving is the answer and this course will teach you the secrets of small scale, natural food preparation, preservation and storage.
Learn about when to harvest, freezing, drying, storing successfully, combating pests, keeping the vitality in stored food, pickling, fermenting, home milling, food hygiene, packaging, small scale marketing and self sufficiency.
This one day intensive course will involve food quality tasting, the hands-on operation of small scale food processing equipment and the sharing of treasured recipes and techniques from different countries.