Permaculture Design Certificate (PDC)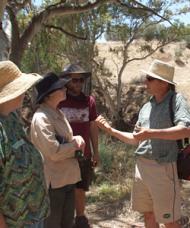 Dates: November 2016 (exact dates to be confirmed)
Download PDF about this course


Registration includes meals, notes, entry fees on field trips and your accommodation option
We are running another PDC in November (dates TBA). Please register your interest if you would like updates on this.
Why study permaculture?
Population growth and consumption levels are pushing our Planet toward a catastrophic environmental tipping point. Permaculture offers a way that we, as individuals and communities, can take control of our future and live sustainably.
Permaculture is a design system which draws upon the great truths of traditional knowledge, modern scientific understandings and the ethics of a peaceful and democratic society. The approach was first developed in Tasmania in the late 70's by Bill Mollison and David Holmgren and is now taught in over 100 countries. Since then hundreds of thousands of people have graduated from Design Courses and are using this tool to build resilience and diversity into their lives.
Permaculture can be employed on any scale, from balconies and backyards to large farms and regional communities anywhere on the planet and in any climate. It offers a stable landscape of productive trees, shrubs and animals, human-scale living and self-reliant children who have the confidence to design a sustainable future for themselves.
It is based on three ethics: care of the Earth, care of communities and acceptance of personal responsibility for consumption and population. Many principles, technologies and strategies have evolved to make permaculture one of the most accessible and dynamic solutions to the issues we face in the 21st Century.
About this course
This 10-day intensive course will present you with an opportunity to consider your life in a new light and gives you increased confidence and many skills needed to design a sustainable and meaningful place for your future.
You will work with a group of motivated fellow students with diverse skills and backgrounds and learn through lectures, practical activities, small group work, case studies, DVDs, field trips and games. In addition to our experienced teaching team, you will have access to a wide range of printed and digital resources.
The extended format of the course is for busy people, designed to cause minimum disruption to other parts of your life as well as to allow you to absorb and practise skills from one learning block before moving on to the next. However the residential aspect is important, as it helps you become fully immersed in learning about sustainable living. Sessions are scheduled in the evenings, but we finish at 5pm on the last day of each block. The first teaching block of 5 days starting Thursday April 21, includes Anzac Day Public holiday which this year is on Monday April 25. There are 3 days in total which are normal 'working days'; these may need some planning to have off.
In The Food Forest PDC you will work on a major design project of your choice. Many of the excellent designs have been implemented around the world.
Whilst many people study permaculture as a design system for their personal and/or professional lives, successful completion of the course will qualify you for a Permaculture Design Certificate which makes you eligible to practise or teach permaculture commercially and to proceed towards the Diploma in Permaculture Design. The course can also be recognised as relevant prior learning towards the completion of requirements for the nationally accredited VET Certificate IV in Permaculture and Graduate Certificate in Permaculture.
Topics
The course at The Food Forest will focus on the southern Australian environment and the ways we can enrich rural and metropolitan landscapes. It will cover such topics as:
Permaculture ethics, principles & design of sustainable systems
Reading the landscape - land capability assessment
Passive solar design for houses and structures
Sustainable energy, 'waste' and recycling
Appropriate human settlements
Personal, family and community strategies
Soil management/ Soil health: improvements and maintenance
Garden, farm and urban planning
Orchard and food forest design
Alternative economic models
Catchments, water management (urban & rural) and aquaculture
Revegetation, agroforestry, bush food and wildlife
Value-adding and direct marketing
Application of Permaculture Design in professions & trades
Principal Tutors
David Holmgren, Annemarie Brookman, Graham Brookman and guests.
Guest Tutors and Field Visits
A wide range of guest tutors, selected for skills in their particular field and their commitment to sustainable living and permaculture will also teach in the course. Some of the best examples of permaculture, in and near Adelaide, will be visited.
Venue
The Food Forest
Accommodation
The accommodation is in a share, bunkstyle facility at The Food Forest. Alternatively you can bring your own van or tent, possibly book a private cabin in a park not far from The Food Forest or commute from home.
Food
Meals are included in the registration and include vegetarian, vegan and omnivorous options. Delicious, healthy, local and in season is important to us! A lot of the food served at the course will be harvested from The Food Forest, including as many varieties of fruit, vegetables and herbs. We have also preserved produce from the different seasons. Of course we don''t produce everything: milk, cheese, bread, grains, pulses and meat will be sourced locally, in many cases direct from the producers. We do our best to cater for different needs but please note that for very specialised dietary requirements you may need to bring some of your own supplies.
Come Prepared
If possible, we would like you to have read one or some of the following texts:
'Permaculture: Principles & Pathways Beyond Sustainability' by David Holmgren
'Introduction to Permaculture' by Bill Mollison and Reny Slay
'Permaculture: A Designers' Manual' by Bill Mollison
'The Holistic Life' by Ian Lillington is another local permaculture text
Richard Telford's website, permacultureprinciples.com, explains permaculture ethics and principles well
The Food Forest's DVD 'Design for Life' gives an introduction to permaculture and to The Food Forest. You can see the 3 minute trailer on YouTube (the whole DVD is available from The Food Forest website should you wish to purchase it).
Bookings & Refunds
Please note: in recent years the course has filled quickly, well before the close of early bird discount date. We suggest you book early to avoid disappointment.
In the unlikely event of insufficient registrations, the organisers reserve the right to cancel the course with one week''s notice. In this case a full refund will be made. Unfortunately we cannot refund travel expenses incurred.